---
[Home] [About] [Download] [Documentation] [FAQ] [Shaders] [Mailing lists] [Issue Tracker] [People] [SF Project page]
---
Documentation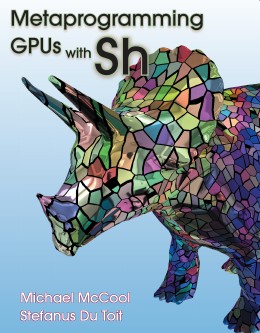 Book
We have published a book called Metaprogramming GPUs with Sh, ISBN 1-56881-229-9, in August 2004, with AK Peters, Inc. You can buy the book from the publisher, from Amazon.com, from Barnes & Noble and from other bookstores.
A brochure for the book and system is available, giving an overview of some of the benefits of using Sh.
Articles
A review of the book has been posted on slashdot.
A Gamasutra article, The Sh GPU Metaprogramming Toolkit, is available. This gives a basic overview of the system.
The papers and the Gamasutra article use similar examples, and neither can go into much depth due to lack of space. The book has a lot more examples and depth, and of course if you download shrike you'll see a lot more examples as well as seeing them run in context.
Papers
Talks
A set of talks on Sh is available for download.
Posters
Videos
A simple introductory video of Sh is available in Windows Media 9 format (21MB).
A video illustrating Worley textures implemented in Sh is available in AVI xvid format (27MB). This video complements the SIGGRAPH 2004 poster on Worley textures in Sh by Bryan Chan.
---
Copyright 2003-2005 Serious Hack Inc.